Mummified ice age wolf pup and caribou found in northern Canada

US & CanadaUS & Canada …
Mummified ice age wolf pup and caribou found in northern Canada
US & Canada
US & Canada
Mummified ice age wolf pup and caribou found in northern Canada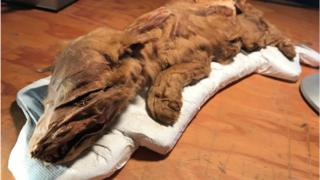 The rare remains of an ice-age wolf pup and a caribou will offer insights about life in Canada's far north more than 50,000 years ago, scientists say.
The creatures were discovered with intact hair, skin, and muscle tissue.
They were found in 2016 by miners near Dawson City in the Yukon territory, and handed over to palaeontologists for research and analysis.
They are among the oldest mummified mammal soft tissue in the world, palaeontologist Grant Zazula said.
The wolf pup is estimated to have been about eight weeks old when it died.
"It's beautiful, the fur, it's got the cute little paws and tail and the curled upper lip showing its teeth. It's spectacular," Mr Zazula told the Canadian Press news agency on Thursday.
The caribou remains include the torso, head, and front limbs.
Both specimens are currently on display in Dawson City and will eventually be sent to the Canadian Conservation Institute near Ottawa.
They are expected to help scientists understand how they lived in the environment they inhabited.
Other creatures who roamed the region from that era, such as the woolly mammoth and even a species of camel, are extinct. But distant descendents of both the wolf pup and caribou can still be found wandering the Yukon.
Top Stories
Flash flood fears as Florence grinds on

US officials warn of life-threatening floods as five deaths are linked to the East Coast storm.

15 September 2018
Year's strongest storm batters Philippines 15 September 2018
Ariana Grande pays tribute to ex Mac Miller 15 September 2018
Features
Winners and losers from the Manafort plea deal
The Battle of Britain's Czech hero
Challenging African-American stereotypes
The millions of 'missing' babies after 2008 crash
Paving paradise to put up an eco-resort
Inside the 'world's fittest country'
Can a psychedelic drug simulate death?
BBC Future: The frozen bodies of Antarctica
Video
Whose problem is cultural appropriation?
Elsewhere on the BBC
Football phrases
15 sayings from around the world
Full article Football phrases
Why you can trust BBC News
BBC News Services
Google News Canada
|
Netizen 24 Canada