Fourth arrest made in connection with man's death after Pearl River brawl, STPSO says

Thomas JonesAnother man has been arrested after a brawl that ended in the death of a man on a West Pearl River sand bar. Thomas Jones, 23 of…
Fourth arrest made in connection with man's death after Pearl River brawl, STPSO says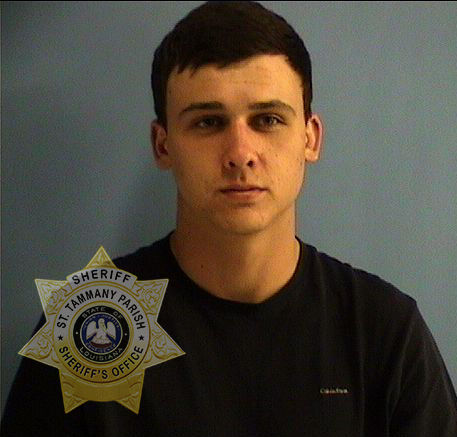 Another man has been arrested after a brawl that ended in the death of a man on a West Pearl River sand bar.
Thomas Jones, 23 of Pearl River, was arrested Tuesday in connection with the incident that left 46-year-old Jeffery Howell dead on Saturday, the St. Tammany Parish Sheriff's Office said in a release.
Jones, the fourth person arrested in connection with the Howell's death, was booked on one count of disturbing the peace; he was taken into custody without incident after he was located at a camp on West Pearl River.
Success! An email has been sent with a link to confirm list signup.
Error! There was an error processing your request.
Can't see video below? Click here.
Jones was also booked on an unrelated contempt of court warrant for "non-support" that totaled $7,052, STPSO said.
Howell's death stemmed from an incident the sheriff's office said took place on the sand bar south of the Davis Landing Boat Launch just after 5:30 p.m. Saturday.
Deputies called to the scene learned there had been a "disturbance" between two large groups, one of which included Howell. The ensuing fight led to Howell's injuries and death.
The reason for the fight has not been revealed.
Also arrested in connection to the incident is 20-year-old Blaine Manalle and 21-year-old Cameron Alphonso, both of Slidell, as well as 22-year-old Alden Kindergran.
3rd arrest related to man's death in West Pearl River brawl; charge for one upgraded to murder
LATEST: Fourth arrest made in connection with man's death after Pearl River brawl
Alphonso was initially arrested on a count of manslaughter, but his charge was upgraded to second-degree murder Monday after the sheriff's office obtained additional witness statements and an autopsy revealed Howell died from blunt force trauma to the head.
Kindergran was arrested on one count of disturbing the peace. He was booked into the St. Tammany Parish Jail and released Sunday afternoon after posting a $750 bond.
'; } else { sHTML += '' + this.content + ''; if (bShowAd == true) { // Show advertisement sHTML += '' bShowAd = false; } else { bShowAd = true; } sHTML += ''; } } } } else { if (this.id == sOriginID) { // Origin found. Begin displaying assets bFoundOrigin = true; } else { // Origin found is false. Skip asset // Fail-safe in case origin is not present in set. This can be removed when origin is fixed. if (bFirstRun == true) { // Stored first id sFirstID = this.id; bFirstRun = false; } else if (this.id == sFirstID) { // We've started again. Force origin sOriginID = sFirstID; bFoundOrigin = true; } // end Fail-safe } } // Append infinity set to container $("#infinite-container").append(sHTML); }); // Include block_id on newly added list items $('#infinite-container .infinite-item.original').each(function() { var sHref = scrubURL($(this).find(".card-headline a").attr("href")); // Add to image and headlines links $(this).removeClass('original') .find(".card-headline a, .image a") .attr("href", sHref + "#tncms-source=infinity-scroll-summary-sticky-siderail-latest"); }); // Check next URL if (sNextUrl) { // if origin hasn't been found yet and we hit next_url. Trigger the set to pull in again. if (bFoundOrigin == false) { // No origin yet. Call the populate function populateInfinitySet(sNextUrl); } else { // Append sNextUrl to infinity set $("#infinite-container").append(''); } } // Refresh waypoints Waypoint.refreshAll(); if (sInfinityType == 'summary_sticky_siderail') { __tnt.regions.stickySide.determineStick($('#sticky-right-rail'), $('#sticky-right-rail-spacer'), 'siderail'); } } else { // Empty asset set returned. Go back in for a real set populateInfinitySet(sNextUrl); } }); } // Infinite waypoint var waypoint = new Waypoint({ element: document.getElementById('infinite-container'), handler: function(direction) { if (direction == 'down') { if (bInfiniStop == true) { // FINISHED. Kill the waypoint this.destroy(); } else { // Log waypoint hit event __tnt.trackEvent({'category':'infinity-scroll','action':'request', 'label':'assets requested', 'value': true}); var nextURL = $('#infinite-more').data('next-url'); populateInfinitySet($('#infinite-more').data('next-url')); } } }, offset: 'bottom-in-view' }); // Infinity ad function infinityAd() { var newIframe = document.createElement('iframe'); newIframe.scrolling = 'no'; newIframe.src = 'http://www.theadvocate.com/tncms/block/546483/?disableTNStatsTracker=1'; return newIframe; } // Rewrite URL to for preview function scrubURL(sURL) { if (typeof sURL != 'undefined'){ return sURL; } }Source:
Google News
|
Netizen 24 United States