Donald Trump gets prank call on Air Force One

US & Canada US & Canada …
Donald Trump gets prank call on Air Force One
US & Canada US & Canada Donald Trump gets prank call on Air Force One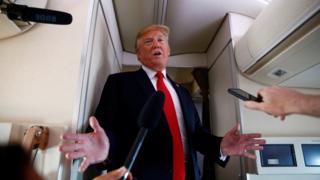 US President Donald Trump was fooled by a comedian into taking a prank call while on board Air Force One.
Comedian John Melendez posed as Senator Bob Menendez. He says he spoke to the president's son-in-law Jared Kushner and received a call back from Mr Trump.
Mr Melendez said he claimed to be Senator Menendez and a fake assistant.
"Sometimes the [President's] channels are open too widely and mistakes like this happen," a White House official told CNN.
Senator Menendez is a Democratic senator from New Jersey and a long-time campaigner for immigration reform.
The US government has come under fire in recent weeks over its policy of separating migrant children from their parents at the border with Mexico.
Mr Melendez, who goes by the stage name Stuttering John, recorded his conversations with the US president and uploaded on his podcast.
On the recording, the voice that is purportedly Mr Trump congratulates Mr Menendez for his 20 17 acquittal in a bribery case.
He was accused of accepting gifts from a Florida eye doctor in exchange for political influence.
The two voices on Mr Melendez's podcast recording also talked about the Supreme Court vacancy following Anthony Kennedy's decision to step down next month.
The voice said to be Mr Trump says he will nominate a new judge to the Supreme Court in "10 to 14 days".
Trump narrows down Supreme Court candidates
Why is the US Supreme Court so important?
When the White House made inquiries with Mr Menendez's office about the conversation Mr Trump thought he had with him on Thursday, the senator's staff were befuddled, US media report.
The prank caller said that his plan could have easily gone wrong.
"All they had to ask me is what party affiliation is Senator Menendez, or what state is he a senator of, and I would not have known. But they didn't ask me any of thi s," Mr Melendez told CNN.
You may also like:
Late-night hosts unite against Trump
Did comedian's Sarah Sanders 'roast' go too far?
Stormy Daniels mocks Trump on comedy show
Download the BBC News App.
Top Stories
Steel firms Thyssenkrupp and Tata to merge
The UK's biggest steelworks at Port Talbot will become part of the newly-merged group.
30 June 2018
Surge in Britons getting EU na tionality
30 June 2018
Great white shark spotted off Majorca
30 June 2018
Features
The young Austrian leader sharing power with the far right
Video
'It's been 50 days since I heard of my son'
Drones, dogs, drilling and desperation
All you need to know about penalty shootouts
BBC Future: The 'quiet eye' secret of elite concentration
Review: Michael Jackson - On The Wall ★★★☆☆
Video
How can you dance without music?
My fortnight playing Fortnite
The best news photos from the past week
Why you can trust BBC News
BBC News Services
On your mobile
On your connected tv
Get news alerts
Contact BBC News
Source:
Google News
|
Netizen 24 United States