BAE Systems to cut almost 2000 jobs

]]> Business Business BAE Systems to cut almost 2,000 jobs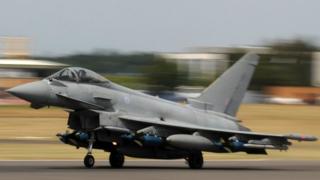 BAE Systems is planning to cut almost 2,000 jobs in military, maritime and intelligence services, the firm says.
A total of 750 posts will go at the Warton and Samlesbury plants in Lancashire where parts for the Eurofighter Typhoon are manufactured.
They are part of a total of 1,400 roles going in the firm's air and information business, which include 400 in Brough and 245 across RAF Marham and Leeming.
Meanwhile 340 maritime jobs will be lost in Portsmouth and Solent.
And a further 180 posts will go in London, Guildford and other locations.
'Difficult news'
In a statement, the defence contractor said it was making organisational changes to "boost competitiveness, accelerate technology innovation and improve operational excellence".
It added that the restructuring of its cyber-security wing would "drive continued growth".
BAE's chief executive Charles Woodburn said the changes "unfortunately include proposed redundan cies at a number of operations".
He added: "I recognise this will be difficult news for some of our employees and we are committed to do everything we can to support those affected."
'World-class workers'
The company said the changes would start on 1 January.
The Unite union reacted with anger and assistant general secretary Steve Turner said: "These planned job cuts will not only undermine Britain's sovereign defence capability, but devastate communities across the UK who rely on these skilled jobs and the hope of a decent future they give to future generations.
"These are world-class workers with years of training and expertise on which an additional four jobs rely upon in the supply chain.
"The UK government must take back control of our nation's defence and with it, play its part in supporting UK defence manufacturing jobs."
Top Stories
N Kor ea 'hacks US-S Korea war plan'
North Korea allegedly stole secret documents last year, including a plan to kill its leader.
10 October 2017
Deadly fires hit California wine country
10 October 2017
'I saw flames come up behind my house'
9 October 2017
Features
The man with 7,000 licence plates
American lice nce plates have become aluminium works of art - and collecting them is hugely popular.
Video
Will the US kick out these loyal recruits?
Immigrants who signed up to a military scheme offering citizenship face deportation if it's shut down.
Robo shops: The next shopping revolution?
Four ways Corker skewered Trump
How a rapist can share custody of victim's child
Video
How 'cervical selfies' can help catch cancer
Why India' ;s PM Modi follows trolls
Turning CO2 emissions into pillows and other objects
Suzi Quatro: Rock's female role model
BBC News Services
On your mobile
On your connected tv
Get news alerts
Contact BBC News
Source:
Google News